Acoustic Energy AE109 Floor Standing Speakers Heavy Shot Filled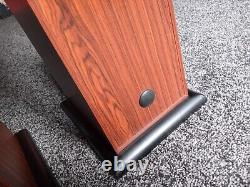 A nice pair of Acoustic Energy floor-standers, the AE109. These are fillable, with an integral chamber in the base. This has been filled with shot, and these speakers are very heavy. They are therefore only suitable for collection.
They have the original grill covers. These are in good condition but could benefit from a clean. The base plates can take spikes, but these are not present. There is a jumper cable in place for regular cable use.
1 dome with waveguide Tweeter. 5.2 paper cone Midrange. 5.2 paper cone Woofer. 41Hz - 26kHz Frequency Response.
Power Range: up to 175watts. Weight:35.20 lbs / 16.00 kg.
Dimensions(HxWxD): 33.9"x6.5"x9.8 / 860.0 x 165.0 x 250.0mm.

---