Bowers & Wilkins 704S2(P)(WHT) Floor Standing Speakers, Pair, White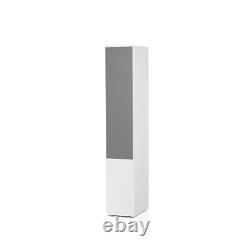 Bowers & Wilkins 704S2, Pair, White. Despite its slim dimensions, 704 S2 has the commanding presence of a much larger speaker, thanks to advanced technologies such as a dedicated ContinuumT cone FSTT midrange.
With the 704, music is a revelation, with details picked out in pin-sharp detail and with exceptional realism. Carbon Dome tweeters are a brand new technology purpose-built for the 700 Series. Delivering a dramatic improvement on the aluminium double dome tweeter, they raise the breakup threshold to 47kHz, for pinpoint imaging accuracy and detail. Voices and instruments are delivered with purity and precision, thanks to the smooth, accurate ContinuumT cone midrange driver. The midrange drivers in these floorstanders feature decoupled design, adapted from a similar system in the 800 Series Diamond.
Decoupling reduces cabinet colouration, and boosts midrange clarity. Developed using advanced computer modeling techniques, the AerofoilT Profile bass cone has variable thickness, providing stiffness and rigidity where it's needed most. The result: deep and dynamic bass. Decoupled Carbon DomeT tweeter ContinuumT cone FSTT midrange Decoupled midrange AerofoilT Profile bass cones FlowportT. 1x ø25mm (1 in) Decoupled Carbon Dome high-frequency 1x ø130mm (5 in) Continuum cone FST midrange 2x ø130mm (5 in) Aerofoil Profile bass.
6dB at 43Hz and 33kHz. 30W - 150W into 8O on unclipped programme. 2nd and 3rd harmonics (90dB, 1m) less than 1% 100Hz - 22kHz less than 0.5% 300Hz - 20kHz. 925mm cabinet only 959mm including plinth. 165mm cabinet only 252mm including plinth.
255mm cabinet only 277mm including grille and terminals 298mm including plinth.

---