Dali Oberon 5 Floorstanding Speakers in Black OPEN BOX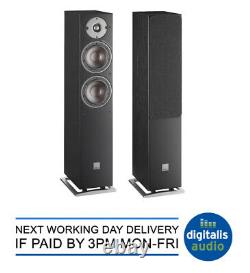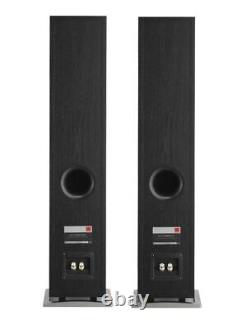 Dali Oberon 5 Floorstanding Speakers in Black OPEN BOX. WE ARE AUTHORISED DALI DEALERS SO YOU CAN BE ASSURED OF A GENUINE PRODUCT BACKED BY EXCELLENT CUSTOMER SERVICE. The DALI OBERON 5 is the ultimate performer - combining DALI ideas, traditions and inventions. It's a compact and elegant floor-standing speaker, housing 2 x 5¼ wood fibre based woofers with SMC and the series' wide bandwidth 29 mm ultra-lightweight soft dome tweeter. This slim floor-stander will surprise with its ability to deliver a deep firm bass together with a clear and well defined mid-range and airy high frequencies.
The OBERON 5 will impress with its natural and lifelike reproduction of any music or movie sound track. The OBERON 5 cabinet employs a very rigid construction, with solid bracings across the inside of the cabinet for reinforcement. This contributes to the stiffness and practically eliminates resonance within the cabinet. The cabinet housing of the OBERON 5 is constructed from high-density CNC machined MDF board - dressed in carefully selected high-grade vinyl. To optimise timing, the speakers are fitted with acoustic damping material internally along the sides, top and bottom.
This creates a more direct contact between woofer and bass port. The audible result is a more precise bass and increased'attack' in the midrange.
The bass ports are placed on the rear of the OBERON 5, optimising room integration by utilising the wall for improved bass performance. With the OBERON range, DALI introduces a brand new front grille design. The new rounded front grille adds a lighter and more contemporary visual look to the speaker series. Mountain Grey' is the standard grille supplied with the light finishes (White and Light Oak), while'Shadow Black' is standard on the dark finishes (Black Ash and Dark Walnut). For an all white look,'Marshmallow White' is also available as an accessory. The elegantly shaped aluminium base gives the floor-standing OBERON 5 a lighter look. The use of SMC in the OBERON 5 greatly reduces mechanical distortion caused by hysteresis and eddy currents. These combined improvements in the magnet motor system results in a lowering of third order distortion. This allows the OBERON 5 to present longer listening pleasure, a relaxed midrange and a surprising amount of detailing for the class. The magnet motor itself consists of a large ferrite magnet that sorrounds a pole piece made with a unique combination of iron and SMC. The iron ferrrite forms the lower base of the pole cylinder, topped of with 10 mm SMC disk to crown the pole piece. This combination minimizes the negative effects of the iron, while placing the SMC disk right in the main working area of the 4-layer voice coil. This placement ensures the maximum effect from the SMC on the voice coils environment, resulting in a greatly improved constant flux field. The OBERON 5 features a pair of 5.25 low-loss woofers that are optimised with a new wood fibre structured cone which is dedicated to reproduce the delicate midrange and bass frequency area - like every other driver made by DALI.
It is constructed from a blend of fine grain paper pulp and reinforced with wood fibres, which creates a stiff, light-weight and well-behaving structure. In combination with a low-loss surround and spider suspension, this cone reproduces the micro details in the signal - unfiltered and with high accuracy. The membrane terminates in a rubber surround that is chosen for its soft and very flexible properties. This gives the membrane free movement with a very low dampening effect, and leaves the magnet motor to control the membrane movement.
The brand new 29 mm ultra-light soft dome tweeter used in the OBERON 5 is manufactured by DALI and has been developed specifically for the OBERON series - combining well proven technologies from our existing DALI ranges with new features. The oversized 29 mm membrane is constructed based on an ultra-light wave weave fabric and is additionally optimised for a larger bandwidth in its lower frequency area. This ensures the optimal handover from the midrange woofer to the tweeter, creating a well-balanced, unforced and very coherent upper midrange. Compared to most soft dome tweeters in the market, the DALI dome material is less than half the weight (0.060 mg/mm2).
The large size of the membrane lets the tweeter generate higher sound pressure with less excursion, keeping the voice coil motion to a precise minimum. The tweeter front plate near the dome has been designed with similar geometry as the OPTICON and RUBICON tweeters to create the optimal working conditions for the soft dome. The aim is to combine an extended frequency response with wide dispersion and low coloration. The driver materials, crossover design and geometry applied in the OBERON series has been selected to achieve a wide dispersion pattern.
This ensures a well-integrated sound, even when listening at a significant off-axis angle. An added benefit is seriously reduced harmonic distortion and diffractions causing frequency distortion. This is why all DALI speakers are not designed to be toed-in.
Frequency Range (+/-3 dB) [Hz]. Sensitivity (2,83 V/1 m) [dB].
High frequency driver, Diaphragm type. Low frequency driver, Diaphragm type. Bass Reflex Tuning Frequency [Hz]. Recommended Distance From Wall [cm]. Dimensions With Base (HxWxD) [mm].
830 x 162 x 283. Manual Rubber Feet Spikes Front Grille. Audiolab 7000A Integrated Amplifier - Black. Audiolab 7000A Integrated Amplifier - Silver.
Audiolab 7000CDT CD Transport Compact Disc Player - Black. Audiolab 7000CDT CD Transport Compact Disc Player - Silver. Free same day dispatch on all orders when paid before 4pm. We only stock quality brands so you can shop with confidence. Digitalis Audio is a well established professional business based in Romford, Essex.
We work closely with many major manufacturers including Audio-Technica, Edifier, Audiolab, Wharfedale, Dali, Mission, Kanto, Blue Aura, Pioneer, QED, Onkyo. We always put you as the customer first so in the unlikely event that you have a problem.
Our dedicated support team are here to help in any way. Should you require further information or advice, please do not hesitate to contact our Romford team. We offer FREE same day dispatch on a. , Greenland, Saint Pierre and Miquelon, American Samoa, Cook Islands, Fiji, French Polynesia, Guam, Kiribati, Marshall Islands, Micronesia, Nauru, New Caledonia, Niue, Palau, Papua New Guinea, Solomon Islands, Tonga, Tuvalu, Vanuatu, Wallis and Futuna, Western Samoa. By placing an order with Digitalis Audio (referred to as us/we/our) you (the customer) are accepting these terms and conditions. These conditions do not affect your statutory rights. Prior to return, please do not just return.
Obviously we cannot provide a guarantee in respect of any misuse e. If you drop the unit, misuse or excessive wear and tear e. Please note the guarantee will be invalidated if repairs are done other than by us or our authorised agents.
You have the right to terminate the contract between us without penalty within 7 days from the date we accept your order. As soon as we have delivered the goods to you, you will be responsible for them.
Our responsibility for everything other than damage due to our negligence will end at the time the carrier delivers the goods to you. Should you return the goods pursuant to conditions set out under these terms and conditions, then title in the goods shall revert to us when you return the goods to us. Many of the goods we sell are of a technical nature and unfortunately it is not practical to publish detailed specifications of all the goods and keep specifications 100% up to date.
All drawings, descriptive matter, specifications and advertising on our website are for the sole purpose of giving approximate descriptions of the goods. As you can appreciate, we shall not be liable to you for any failure or delay in performance of our contract if it is due to an event beyond our reasonable control, including, without limitation, acts of God, war, industrial dispute, fire, flood, tempest and national emergencies and if so delayed we shall be entitled to a reasonable extension of time for performing such obligations. The contract between us shall be deemed to have been made in England and shall be governed by the laws of England and Wales.
This listing is currently undergoing maintenance, we apologise for any inconvenience caused.

---