Dali Oberon 5 Speakers Dark Walnut PAIR Slim Floor Standing Loudspeakers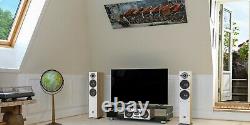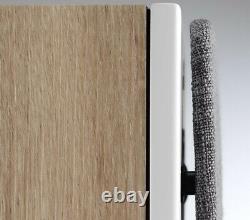 Dali Oberon 5 Speakers - Dark Walnut. Compact and elegant floorstanding speakers with two 5¼ wood fibre based woofers with SMC and a wide bandwidth 29mm ultra-lightweight soft dome tweeter.
The Oberon 5 speakers from Dali are compact and elegant floorstanding speakers with two 5¼ wood fibre based woofers with SMC and a wide bandwidth 29mm ultra-lightweight soft dome tweeter. These speakers will impress you om their ability to deliver a deep strong bass coupled with a clear and defined mid-range and light high frequencies. The Dali Oberon 5's will definetly impress you with its lifelike realistic reproduction capabilities for any music genre or film audio. THe addition of SMC lowers any mechanical distortion that is the product of hysteresis and eddy currents. Improvements in the magnet motor mechanism result in a reduction of third order distortion, therefore, the speaker will give you listening enjoyment, with prolonged listening, with a content midrange and remarkable quantity of detail.
The magnet motor contains a large ferrite magnet that encompasses a pole piece constructed from a unique mix of iron and SMC. Oberon 5 has a set of 5.25 minor-loss woofers that have been configured with an innovative wood-fibre build cone which will reproduce the intricate midrange and bass frequency regions with the same high quality as every other Dali drivers. The driver is constructed from a combination of fine grain paper pulp and with wood fibres that give a rigid, light-weight and stable structure.
With the addition of a low-loss surround and spider suspension, the cone creates the intricate details in the signal unfiltered and with superior accuracy. The membrane stops in a rubber surround used for its soft and lithe properties giving the membrane liberal movement with ultra-low dampening effect, leaving the magnet motor to regulate the membrane motion. The 29mm super-light soft dome tweeters, made by Dali specifically for Oberon speakers mixes acclaimed technologies from the brand's existing range with latest features. The large size of the membrane facilitates the tweeter to produce higher sound pressure with lower excursion, retaining minimal voice coil movement.
The oversized 29mm membrane is built on a light wave weave material and is further augmented for a greater bandwidth in the lower frequency region. Dali eases integration with your loudspeakers into any room. Both the materials and structure of the driver were have been selected to give a broad dispersion pattern in the listening space.
Also the crossover is designed for enabling a well-integrated sound, even with off-axis listening. The cabinets of these speakers are incredibly rigid with solid bracing within the cabinet for extra reinforcement. The rigidity virtually eliminates removal within the cabinet. The cabinet is constructed from high-density CNC-made MDF board with a carefully selected high-grade vinyl covering. To maximise exact timing, the speakers are attached with audio damping material along the edges. The damping produces a straightforward contact between the woofer and bass port. The result is a more accurate bass and an amplified midrange'attack'. The bass ports are positioned on the rear of the speaker that enhances room integration by using the wall for enhanced bass performance.
The aluminium base easily gives the Oberon 5's a brighter look. The Dali Oberon's are the first entry-level speakers to employ Dali's proprietary SMC technology, which decreases non-linear magnetic distortion so you will enjoy your favourite music like you have never heard before. Freq Range: 39 - 26k Hz (+/-3dB).
Recommended Amp Power: 30 - 150W. HF Drive: 29mm Soft Textile Dome.
LF Drive: 2x 5.25 Wood Fibre Cone. Bass Reflex Tuning Freq: 43Hz.
Distance From Wall: 15 - 80cm. Dimensions (HWD): 830 x 162 x 283mm. Excellent award winning Floorstanders, right up there with the best' What HiFi Magazine 2020. Orders placed on a Friday morning will be delivered on the Monday.
Orders placed after 2pm Friday will be dispatched on the following Monday. Which is highly recommended for its costs and efficiency.
We will always aim to do the best to resolve any issues. We aim to provide a fantastic shopping experience for all our shoppers.
If you are pleased with the service you receive then please leave feedback accordingly, it really helps us as a small business. We understand that mistakes can happen, and we are more than happy to resolve any issues that may arise. View these items & similar. Audio Affair 23 Gibb Street Custard Factory Birmingham B9 4AA.
Sign up for exclusive offers.

---