PMC FB1 Floorstanding speakers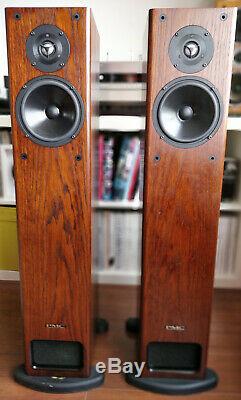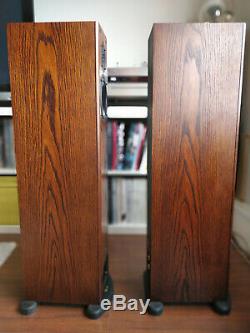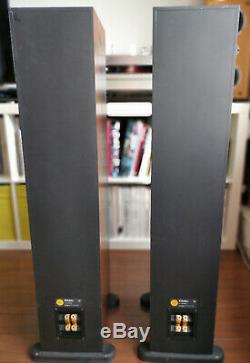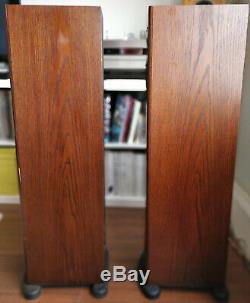 Great Used condition PMC FB1. First model, not "+", Not "i"; not "signature". Custom finish real wood veneer. Not sure which, it is Dark Brown so I think Rosewood or rose pallisandre. Darker than my walnut and cherry TB2 anyway. Original floorstands with spike threads. Couple of knocks and scratches but excellent overall condition. Transmission line means sound goes lower than expected for this size. Domestic version of studio speakers (TB2/LB1) used in BBC and many other broadcast, surround sound and music mastering studios. Reference quality monitors from the Profesional Monitor Company!
Open to offers but this is quite a rare finish colour and priced low already due to lack of grilles. I do not drive but happy to carry them one at a time on public transport! Please contact me before paying to arrange.
Glad to help where possible to ensure they arrive safely. Full info can be found on PMCs archive pages. Sorry to see them go but downsizing studio surround system to the smallest size DB1. Much more info on PMCs archive pages.
The FB1 was the first wholly domestic model from the PMC stable. From its humble drawing-board beginnings to the present day it has become an audio legend, winning awards on all continents from the leading audiophile critics. The FB1 has even received critical acclaim from respected professional magazines for its ability as a true reference-recording monitor.
PMC was founded in the belief that there were many ways in which loudspeaker design could be improved - and better products aren't made by following the crowd. Off-the-shelf drivers, cabinets, and crossovers are commonplace in today's mass-produced world, but our reference monitors demand innovative, non-standard attention to detail to produce the low-distortion, high-resolution designs which have made our reputation. That's why our cabinets are hand-built, the design of our drivers is unique to us, and our underlying technologies are patented, proprietary designs.
H 1000mm 39.37" W 200mm 7.87" D 300mm 11.81. 2 pairs 4mm Binding Posts (Suitable for Bi-Amp or Bi-Wire). MANUAL Thank you for purchasing the FB1 loudspeaker, one of The Professional Monitor Companys range of carefully engineered and innovative loudspeakers. In order that you can take full advantage of their performance, please take a little time to read through the following information. Help If you should require help or assistance please call your dealer first, if they are unable to assist call your local agent/distributor or the Professional Monitor Co.
Unpacking The FB1s are packed inside a heavy duty outer protective cardboard casing. The speakers are suspended by dedicated foam supports. The packing materials should be retained for use should it become necessary to return a unit for servicing. Amplifier Power Requirements It is recommended that amplifiers of between 50 and 100watts output are used, although more powerful amplifiers can be successfully used if care is taken not to overdrive the loudspeaker. Driving an amplifier too hard into clipping can result in damage to the loudspeaker.
Very often amplifiers are equipped with complicated protection circuitry which is more often than not designed to protect the amplifier at the expense of the loudspeakers. A powerful amplifier operating well inside its capability will generally be less likely to damage your speakers than a less powerful one operating close to its limits.
Connection Ensure your amplifier is switched off before you make any connections to your loudspeakers. Which ever connection method you choose always use good quality cables to connect your amplifier to your loudspeakers. We would recommend the use of multi-stranded copper cable of reasonable cross sectional area. The FB1 is equipped with four binding posts (2red/+ve, 2 black/-ve) which can except either standard 4mm banana plugs or bare wire. Where gold plated binding posts are used we would strongly recommend the use of gold plated banana plugs. Figure 1: FB1 Rear Connection Panel It is possible to configure the FB1 for either standard, Biwire or Biamp working. Standard Operation Simply connect your cable between the red (+ve) and Black (-ve) terminals. Either the upper or lower set of binding posts may be used. Do not remove the linking bars and ensure that the binding posts are done up tightly. Biwire Operation Loosen the binding posts and remove the linking bars.
The HF and LF sections of the loudspeaker are now separated, individual cables can now be fed from your amplifier to the input of each section. The upper terminals are the input to the HF driver and the lower pair the LF driver. Biamp Operation In this mode the LF and HF drivers are fed from two separate amplifiers, both of which are fed the same input signal. Loosen the binding posts and remove the linking bars. The HF and LF sections of the loudspeaker are now separated, individual cables can now be fed from your amplifier outputs to the input of each section.
Input to tweeter (HF Section) Input to bass driver (LF Section) FB1 User. Doc Stands See additional Plinth assembley instruction and use document. Loudspeaker Placement All loudspeakers are influenced by the acoustic of the room in which they are placed. The positive and negative effects of your room can be manipulated to some extent by careful positioning.
Proximity to room boundaries (floors and walls) raises the low frequency energy at the expense of unevenness in the response. In the extreme, placing a loudspeaker low, near the floor and in a corner will produce an extremely bass heavy and boomy response, often making the bass slow and ill defined. Experimentation with placement cannot be overstated.
Running In All new loudspeakers require a period of running in. This allows for the settling of materials used in the drive units.
The FB1 is no exception to this rule, best results will be achieved from newly supplied monitors after a period of between 10 and 20 hours running in. Care of your Monitors There are no user serviceable parts within the FB1 monitors. The cabinets should be cleaned with a damp cloth.
Take care when using wax or spray polishes. The item "PMC FB1 Floorstanding speakers" is in sale since Saturday, February 29, 2020. This item is in the category "Sound & Vision\Home Audio & HiFi Separates\Speakers & Subwoofers".
The seller is "summerstristan" and is located in London. This item can be shipped to United Kingdom.
System Configuration: 2.0 Channel
Brand: Speakers

---