Tannoy Revolution XT 8F Floorstanding Speakers Gloss White. Graded Stock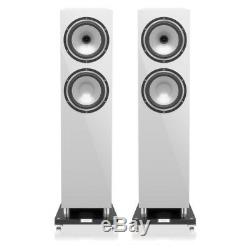 Tannoy Revolution XT 8F Floorstanding Speakers - Gloss White. The combination of a 200mm (8.00") Dual Concentric driver and a 200mm (8.00") auxiliary bass driver is a configuration that has found exceptional success throughout Tannoy's illustrious history and the Revolution XT 8F builds on these strengths. The new Omnimagnet Dual further refines bass performance with its linear LF response and exceptional timbre accuracy, while its new HF section with Torus-Ogive waveguide delivers smooth HF extension with outstanding imaging. The Revolution XT 8F crossover uses low loss laminated core inductors and audiophile components throughout and further benefits from high purity oxygen free copper (OFC), silver plated wiring.
The 49.4 litre Revolution XT 8F cabinet houses the largest iteration of Tannoy new dual-cavity coupled reflex system, featuring separate cavities coupled internally by tuned ports. Bass energy exits from a tuned down-firing port between the angled base of the cabinet and the integrated plinth. The precisely engineered angle of the'waveguide' formed between cabinet and plinth encourages LF energy to disperse forward into the room, making closer-to-wall placement of the speaker than is typically possible without major detrimental effect on sound quality.
The result is tight and articulate bass with exceptional power and extension down to 34Hz. Each Revolution XT 8F cabinet is offered in Medium Oak or Dark Walnut real wood veneer, hand finished to the same exacting standards that Tannoy demands of it premium models and world-renowned Prestige series. The 200mm Omnimagnet driver is finished with an etched trim ring and driver bolts that contrast the black driver chassis.
Magnetic grille mounts are installed below the veneer to ensure a smooth and uncluttered appearance across the front baffle and afford easy fitment of the grille for a more subtle look. Revolution XT 8F is a worthy flagship of the dramatic new Revolution XT series, combining classic Tannoy values of dynamics and musical articulation with exceptional smoothness and class-leading imaging of the new Omnimagnet Dual Concentric driver. We have bought a batch of this stock which has cosmetically less than perfect outer packaging - hence the term "graded". The Speakers inside are perfect and unopened.
This is an opportunity to acquire this 5 Star Reviewed Speaker at a great price. The flagship revolution XT 8F is a substantial floorstanding loudspeaker offering the scale and dynamics of real live music in a loudspeaker that looks every bit as good as it sounds. Introduction - Revolution XT Revolution XT is the latest development of Tannoy's most affordable loudspeaker to feature the world renowned Dual ConcentricT driver. The XT is a true'revolution' of the series, featuring an all-new'Dual' with some of the most significant and fundamental design changes in the driver's near 60-year history.
While retaining Revolution's familiar trapezoid cabinet shape, wide-ranging changes to Revolution XT's internal design make for a completely new and unique loudspeaker concept. Tannoy's pioneering Twin-cavity coupled reflex system and down-firing external port delivers the Revolution series' most tuneful and musically coherent bass to date, while the integrated plinth further improves transient attack and overall stability. The new Dual, with its OmnimagnetT motor and class-leading dispersion characteristics, has been partnered with a new series of audiophile grade crossovers to realise the very best performance across the range. XT is a true Revolution in loudspeaker design.
With a range spanning 100mm (4.00"), 150mm (6.00") and flagship 200mm (8.00) Dual Concentric drivers, Revolution XT is offered in a five-strong range to ensure there is a perfect model for every home. Available in Medium Oak or Dark Walnut real wood veneers, Tannoy's legendary quality of finish is further enhanced with magnetic grille mounts and subtle trim detailing. From the compact Revolution XT Mini stand-mount loudspeaker to the imposing Revolution XT 8F floorstanding model, the range delivers unrivalled musical articulation and outstanding dynamics.
Drive Unit The Revolution XT Dual Concentric driver represents a major revision of Tannoy's long standing and well regarded coaxial driver technology. While retaining the Dual's fundamental benefits of class-leading coherence and point-source imaging, the new driver technology delivers exceptional smoothness and even further improved imaging. The Omnimagnet Dual Concentric is a completely new interpretation of this proprietary point-source drive unit, combining a revolution new HF diaphragm and waveguide with a single magnet that energises both the HF and LF coils. The HF dome is Torus (donut) shaped allowing it to be placed further forward in the throat of the driver.
An Ogive (bullet) shaped phase plug sits in front of the diaphragm which assists in shortening the propagation path of HF waves. The Torus Ogive waveguide has a more aggressive flare than previous'tulip' shaped Dual Concentric waveguides which expands wave front propagation through the cone of the bass driver. The result is a shortened acoustic path through the driver and greater phase coherence between HF and LF. The Omnimagnet Dual Concentric is a radical evolution of Tannoy's signature driver.
The new Dual's wider and more even dispersion pattern has a profoundly positive effect on imaging and the improved phase coherence ensures a natural and expansive sound. The revised (shallower) cone design and potent Omnimagnet motor deliver even smoother bass performance with exceptional transient attack. Used exclusively in the new Revolution XT series, the Omnimagnet Dual Concentric driver opens another illustrious chapter in the development of Tannoy's driver technology.
Construction The now famous trapezoid shape of the Revolution family derives its eye-catching form from its musical function. The non-parallel sides disperse internal standing waves and internal reflections to produce incredibly low cabinet colouration. The result is a sharply styled, contemporary loudspeakers series.
All products in the range now include a stylish and sturdy plinth which is an integral part of the cabinet tuning mechanism, chrome pillars add strength and style to the product, while easily adjusted spikes are incorporated into the Floorstanding variants. Yet the most significant advances to the Revolution XT's cabinet are on the inside. Following three years of R&D, Tannoy has developed a unique twin-cavity reflex system that optimised driver performance from extremely low to mid frequencies using balanced back-pressure damping. The system also dramatically reduces vertical standing waves within the cabinet, leading to exceptional tight and controlled bass down to the lowest organ notes. On the floorstanding models, LF energy exits from an angled down-firing port, diffusing into the room between the cabinet and the integrated plinth.
In addition to outstanding bass reproduction, the design reduces room boundary effects and facilitates easy loudspeaker placement. Tannoy's dual-cavity coupled reflex system is a revolution from the inside. As you would expect from Tannoy, finish and attention to detail on Revolution XT models is second to no other loudspeaker in its class. Each model is hand finished in real wood veneer, in a choice of Medium Oak or Dark Walnut colours, with magnetic grilles supports for a smooth and seamless look with the grilles on or off.
Celebrating the new Omnimagnet driver, each Dual Concentric is finished with an etched metal trim ring. Satin black plinths, with large knurled locking feet and chrome pillars, are subtly finished with an etched metal Tannoy badge.
44 mm (1.75) edge wound voice coil CROSSOVER. Crossover Frequency 250 Hz & 1.8 kHz.
Crossover Type Passive low loss 2nd order low pass, 1st order high pass CONSTRUCTION. Enclosure Type Downwards ported twin cavity coupled reflex.
Volume 48.8 l 1.72 cu.. Dimensions H x W x D incl. Plinth 1080 x 317 x 345 mm. Finish: Dark Walnut or Medium Oak. Our items are available for pick-up. No additional information at this time. The item "Tannoy Revolution XT 8F Floorstanding Speakers Gloss White. Graded Stock" is in sale since Wednesday, February 20, 2019.
This item is in the category "Sound & Vision\Home Audio & HiFi Separates\Speakers & Subwoofers". The seller is "peter_tyson_outlet" and is located in Carlisle, Cumbria. This item can be shipped to United Kingdom.
Brand: Tannoy
Configuration: N/A
Connectivity: N/A
MPN: XT8FGRADGW
Model: XT8FGRADGW
RMS Power: N/A

---